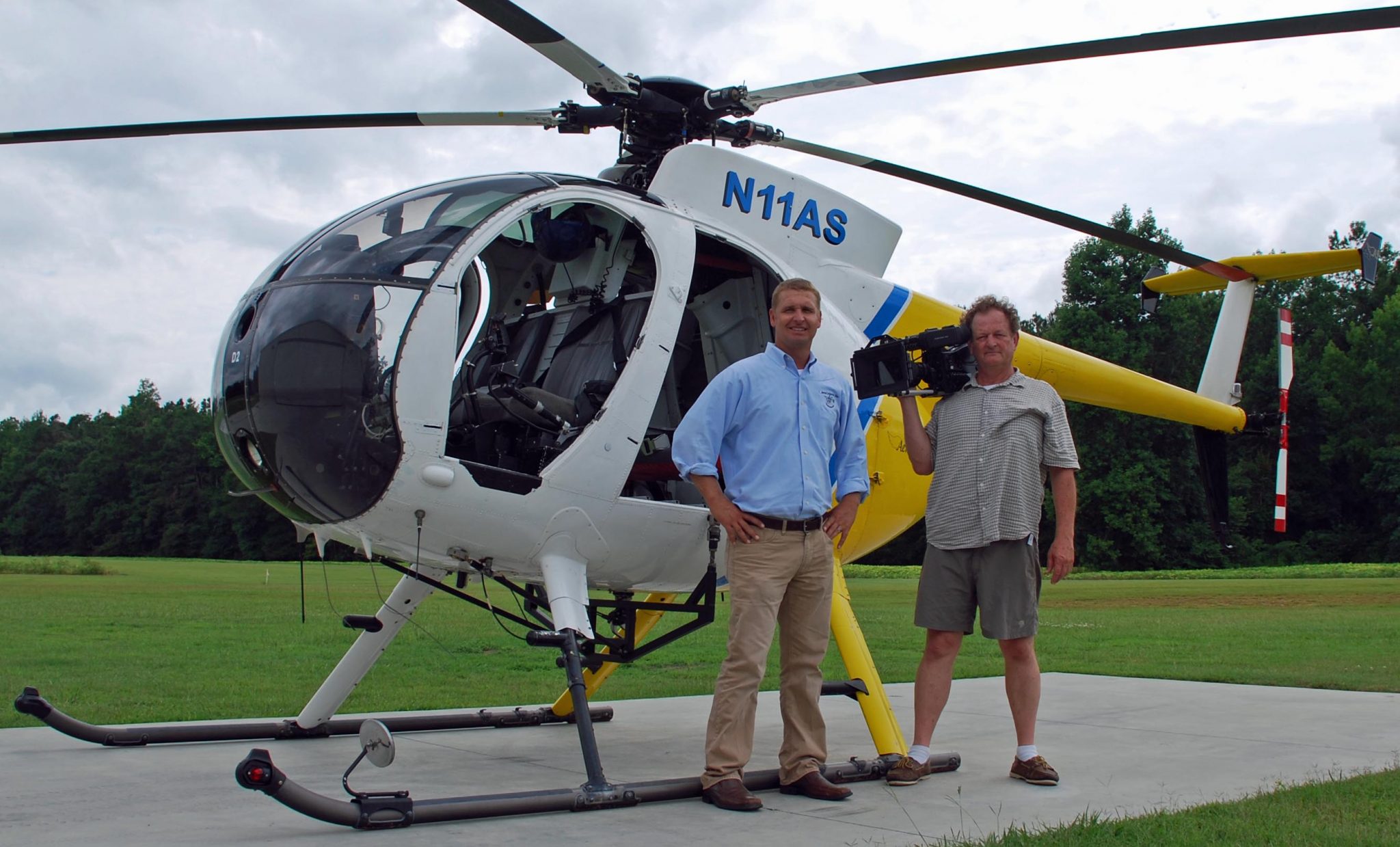 The president of Aerial Solutions, a North Carolina based company that pioneered the use of helicopter tree trimming, announced that the company will be featured on an upcoming episode of Innovations by Ed Begley, Jr. on the Discovery Channel. We had the opportunity to work with the president, Cleve Cox (seen pictured here with one of his helicopters), on a video project leading up to this exciting debut.
This was a very cool project that we had a lot of fun with…meaning we got to ride in a helicopter and video a thirty foot long chainsaw trimming trees like a knife through butter. Aerial Solutions, Inc. has worked with utility companies across the United States since 1985 by offering a unique, fast, and cost-effective alternative to conventional side-trimming methods, with the ability to provide complete sky-to-ground clearance near power lines. Other methods have been limited by terrain, regulations or environmental restrictions.
The air-to-ground method used by Aerial Solutions reduces lateral vegetation encroachment along power lines, resulting in improved safety and service reliability. In other words, they trim vegetation back so when heavy winds occur, nearby towns don't lose power due to trees falling on the lines.
https://www.gefenproductions.com/wp-content/uploads/2015/08/helicopter.jpg
1239
2048
gefen_admin
https://www.gefenproductions.com/wp-content/uploads/2019/08/logo-300x125.png
gefen_admin
2015-08-17 17:29:58
2020-12-16 19:44:40
Aerial Solutions Takes Flight with Innovative Tree Trimming Method