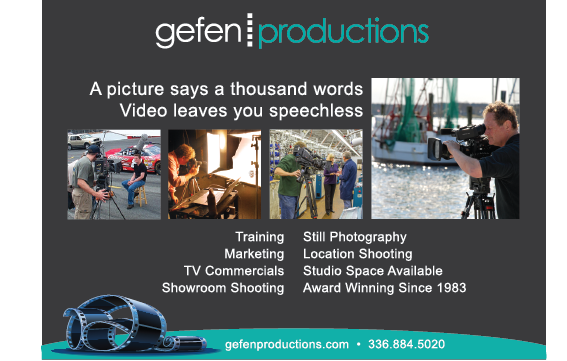 Gefen Productions has been a leader in video production NC since 1983.  We stay up-to-date with new innovations and production technologies. As a result, the service we offer our clients is unparalleled.
Our experienced crew offers complete video production services, putting your vision into motion.
Our capabilities include video production for web, corporate communications, broadcast, news and entertainment. We can take a project from concept to completion, or provide individual services such as shooting, editing and formatting video for the web.
PROVIDING YOU WITH QUALITY VIDEO SERVICES
Pre-Production – Scripting, storyboarding, set design, casting
Production – Complete location and studio video shooting capabilities
Webcasting & Live Streaming – Simultaneous broadcasting live or on demand
Still Photography – Professional still photography services
Studio – 1600 sq. ft. studio located in High Point, NC
Post-Production – Editing, animation, motion graphics and voiceover
Compression – We can deliver any format for Web or desktop
Duplication – Complete DVD and CD duplication service
Equipment Rental – Video cameras, monitors, lights, dolly, teleprompter and more
Video Crew For-Hire – We can provide a professional video crew to meet your needs
Watch our Demo!